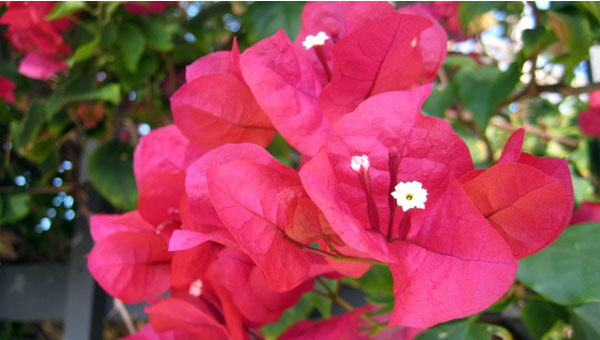 The gorgeous red
Barbara Karst
is one of the most searched bougainvillea on the Internet. She is a moderate grower with a full, thick growth pattern and extremely reliable flowering habit. A natural climber, she performs best when grown on trellis, but does almost equally well when trained as a bush, standard, hanging basket, or bonsai. In addition to her many wonderful qualities, her suitability for any application makes her a highly desired variety.
Barbara Karst can be found beautifying the landscape all throughout Florida, southern California, Arizona, Texas.
Characteristics
Barbara Karst is the bougainvillea-industry standard for red, but it's actually the darkest shade of hot pink; only the new growth is truly red in color. Leaves are dark blue-green, and broadly ovate. Vigorous, showy vine shines with bright magenta red blooms. Gives a fine cover to patios or arbors. Also a good groundcover for banks. Use as annual color in colder climates. Evergreen.